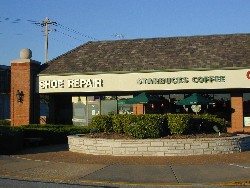 OPENED: ?, PHOTO: 24 September 2002

When you visit this store, steel yourself for a long journey down a long lobby, seeming to widen because of the tile, before you actually reach the counter to order your coffee. At least you'll have time to think about your order.

Now, I prefer to photograph buildings rather than people, so I've never made an effort to take photographs of the baristas at all these Starbucks, but at the request of the excitable Emily, here you go... Sean and Emily--two cool baristas!